Ooh, fall vegetarian dinners edition! Let's go! As the temperatures cool and the leaves change, it's time to start thinking about cozy fall meals.
But just because you're a vegetarian doesn't mean you must miss out on the hearty, comforting flavors of the season. In fact, autumn is the perfect time to indulge in all sorts of delicious vegetarian dishes that will warm you up from the inside out.
From roasted root vegetables to savory soups and stews, plenty of fall dinner ideas will satisfy your cravings for comfort food while still keeping things meat-free.
So whether you're looking for a quick weeknight meal or a show-stopping dish to impress your dinner guests, read on for some delicious vegetarian fall dinner ideas that are sure to please.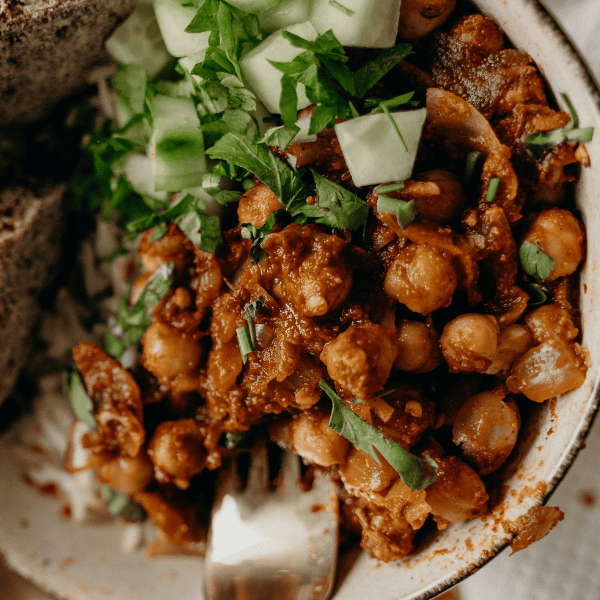 You might enjoy these posts:
Roasted Butternut Squash Soup
Roasted butternut squash soup is a perfect dish for the cooler fall and winter months. The recipe requires only a few simple ingredients, such as butternut squash, onions, garlic, vegetable broth, heavy cream and some spices.
Pumpkin Risotto
Pumpkin risotto is a classic Italian dish that is popular during the fall season. It is made with arborio rice, which is cooked in a pan with garlic, butter, and white wine until most of the liquid is absorbed.
The pumpkin adds a subtle sweetness to the dish, while nutmeg, sage, and parmesan cheese give it additional depth of flavor. It is often garnished with extra-grated parmesan cheese and black pepper. It can be served as a main course or a side dish.
Vegetarian Shepherd's Pie
Vegetarian shepherd's pie is one of many fall vegetarian dinners and a classic British dish that typically consists of a savory filling of vegetables, lentils, or soy crumbles and is topped with mashed potatoes. It is a hearty and comforting dish that is perfect for fall and winter months, and it can be easily customized to suit individual tastes by adding different herbs, spices, or vegetables.
Apple Cider Glazed Tofu
Apple cider glazed tofu is a sweet and savory dish that is perfect for the autumn season. This dish is made by marinating firm tofu in a mixture of apple cider, soy sauce, maple syrup, and spices like ginger and garlic.
It is a satisfying and flavorful vegetarian alternative to traditional meat dishes, and it's perfect for fall gatherings or cozy dinners at home.
Baked Acorn Squash with Quinoa Stuffing
Baked acorn squash with quinoa stuffing is a delicious and healthy vegetarian dish. It's a warm and comforting dish that is full of flavor and texture. This recipe is a great way to incorporate seasonal produce and healthy grains into your meals, and it can be served as a main course or a side dish for a festive fall dinner.
Wild Rice Stuffed Portobello Mushrooms
Wild rice stuffed portobello mushrooms have a savory and earthy taste with a rich, almost meaty flavor profile that is perfect for a hearty vegetarian meal. The dish has a lovely umami quality that fills the mouth with a full and robust flavor, and it pairs well with a side salad or roasted vegetables.
Lentil and Vegetable Shepherd's Pie
You don't want to miss out on this savory vegetarian Shepherd's Pie! Featuring the hearty goodness of lentils, tenderly simmered in rich, savory broth and topped with creamy mashed potatoes, this recipe is baked to golden perfection, offering all the flavor and heartiness you'd expect in the traditional version. Give it a try and make it a meatless favorite any time of year.
Creamy Butternut Squash Pasta
Creamy butternut squash pasta has a sweet and savory taste with a creamy and velvety texture that is perfect for a comforting fall meal. The butternut squash sauce is made by roasting the squash until tender, then pureeing it with vegetable broth, garlic, and cream. The result is a luscious and silky sauce that coats each strand of pasta.
Cauliflower and Chickpea Curry
You've got to try this super creamy one pot cauliflower and chickpea curry! It's quick to make and bursting with flavor. Add this to your vegetarian fall dinner and you won't get enough of it. Plus, the cauliflower really soaks up all that delicious flavor and holds its own in the curry. Give it a go!
Pumpkin and Sage Risotto
Pumpkin and sage risotto is a delicious dish that combines the sweetness of pumpkin with the herbal flavor of fresh sage. This dish is a comforting and flavorful dish that is perfect for cooler weather, and it can be served as a main course or a side dish. It pairs well with a crisp green salad or a glass of white wine.
Vegetable Gnocchi Bake
Vegetable gnocchi bake is a hearty and comforting vegetarian dish that is perfect for a cozy dinner at home. This dish is topped with a generous layer of mozzarella cheese, which melts and bubbles in the oven, creating a deliciously gooey and cheesy topping.
Sweet Potato Black Bean Enchiladas
Sweet potato black bean enchiladas are a flavorful and satisfying vegetarian option that doesn't compromise on taste or nutrition. The sweetness of the roasted sweet potatoes contrasts beautifully with the savory black beans, while the spices used in the recipe – such as cumin, chili powder, and smoked paprika – give this dish a bold and zesty flavor profile.
Creamy Mushroom Stroganoff
Creamy mushroom stroganoff has a hearty and satisfying taste that marries the flavors of savory mushrooms, tangy sour cream, and aromatic herbs. The mushrooms have a meaty texture that adds to the overall richness of the dish, while the sour cream or yogurt gives the sauce a subtle tanginess that balances out the creaminess.
Spicy Lentil Sloppy Joes
Spicy lentil sloppy joes are a delicious and satisfying vegetarian take on a classic comfort food. They are also incredibly easy to make. They can be made in one pot in under 30 minutes, making them a great option for busy weeknights.
The spicy kick adds a unique and exciting twist to the traditional sloppy joe recipe, making it a fun and flavorful meal.
Baked Spaghetti Squash with Tomato Sauce
You should definitely give this easy baked spaghetti squash recipe a try! It's stuffed with an appetizing blend of tomato sauce, goat cheese, and spinach, serving as a wholesome and comforting vegetarian dinner that requires only 7 ingredients.
Black Bean and Sweet Potato Chili
Black bean and sweet potato chili has a thick and hearty texture that is both satisfying and comforting, with chunks of tender sweet potato and plump black beans in every bite. The sweetness of the sweet potatoes is perfectly balanced by the earthy flavor of the black beans and the warming spices, creating a deliciously complex taste that is sure to please.
Autumn Vegetable Paella
Autumn vegetable paella is a flavorful and hearty vegetarian dish that perfectly captures the warm and comforting flavors of fall. This dish has a rich and complex taste that is both satisfying and comforting, with each bite bursting with the flavors of the vegetables, herbs, and spices.
Pumpkin Sage Pasta
Pumpkin sage pasta features tender pasta that is tossed in a creamy sauce made from pumpkin puree, garlic, cream, and parmesan cheese. The sweetness of the pumpkin puree is perfectly balanced by the savory parmesan cheese, creating a deliciously complex taste. The sauce has a rich and creamy texture that coats the pasta perfectly, creating a luxurious and indulgent dish that is perfect for a cozy dinner at home.
Eggplant Parmesan
You won't regret trying this classic eggplant parmesan recipe! Make tender, homemade breadcrumbs-coated eggplant slices, layer it with melted cheese and rich marinara, and either fry or bake – both methods are included. The whole family will love it!
Quinoa Stuffed Bell Peppers
You won't want to miss this Quinoa Stuffed Peppers recipe. It features plant-based protein from quinoa and beans, it's a healthy, hearty, and scrumptious meal that vegetarians and non-vegetarians alike will surely enjoy. Trust us – you'll love it!