Low Carb Keto Taco Seasoning Recipe
This homemade low carb taco seasoning is a sugar-free seasoning that goes great in all your keto dishes, from a taco skillet to taco soup.
The key to success on the keto diet is finding healthy recipes that allow you to enjoy a variety of foods without sacrificing taste. This low-carb taco seasoning recipe is a quick and easy option that can be used in any number of dishes. It's also simple enough for anyone who wants to give it a try, whether they're already following the ketogenic diet or not. This seasoning is sure to make your keto tacos taste amazing. This is the best keto taco seasoning recipe you can find online, and it works great in all different types of recipes.
The homemade taco seasoning recipe is keto-friendly/low carb and sugar-free and made with NO FILLERS!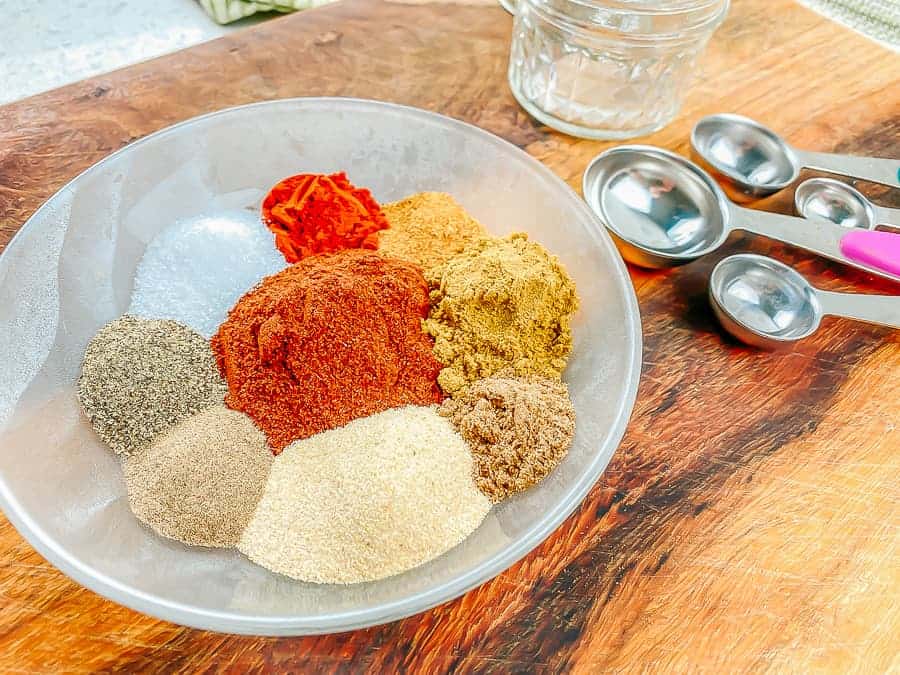 Keto taco seasoning ingredients
2 TBSP chili powder
1 TBSP ground cumin
1 tsp ground coriander
2 tsp garlic powder
1 tsp smoked paprika
1 ½ tsp fine sea salt
1 tsp ground black pepper
½ tsp ground white pepper
¼ – ½ tsp cayenne pepper* (can be left out if your family doesn't like a lot of heat)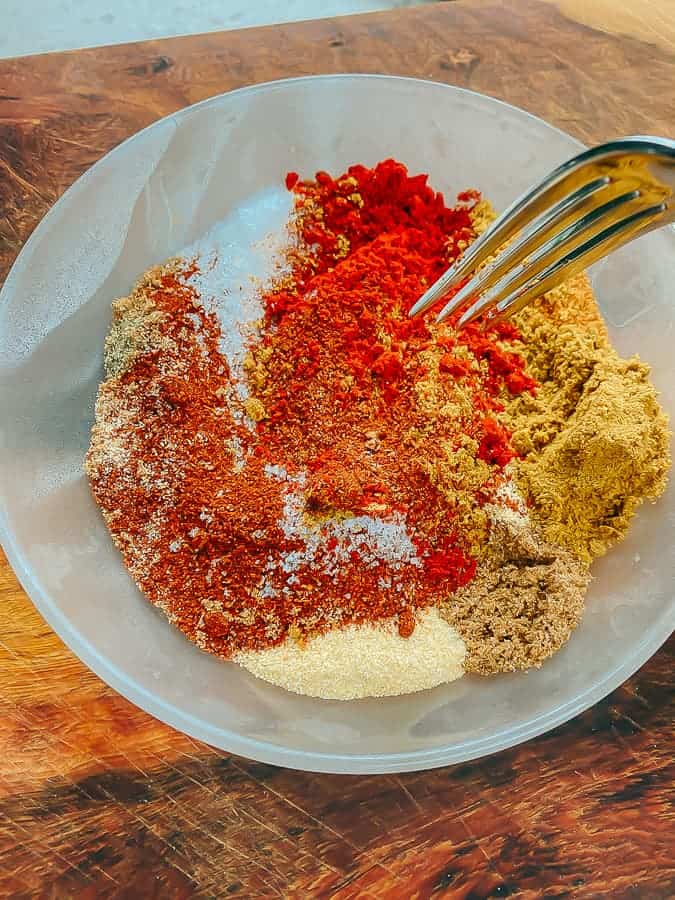 How to make keto taco seasoning
Mix all the taco seasoning mix ingredients listed above together in a small bowl. Any remaining taco seasoning can be stored in an airtight container with a tight-fitting lid for several months.
Psst… if you enjoy making your own seasoning mixes, try our Cajun seasoning mix!
Taco seasoning per pound of meat
To make a single pound of meat, you will need 2 tablespoons of taco seasoning mix. The browned meat can be used as the base for tacos or burritos to create those delicious low carb keto tacos that are just perfect for your diet.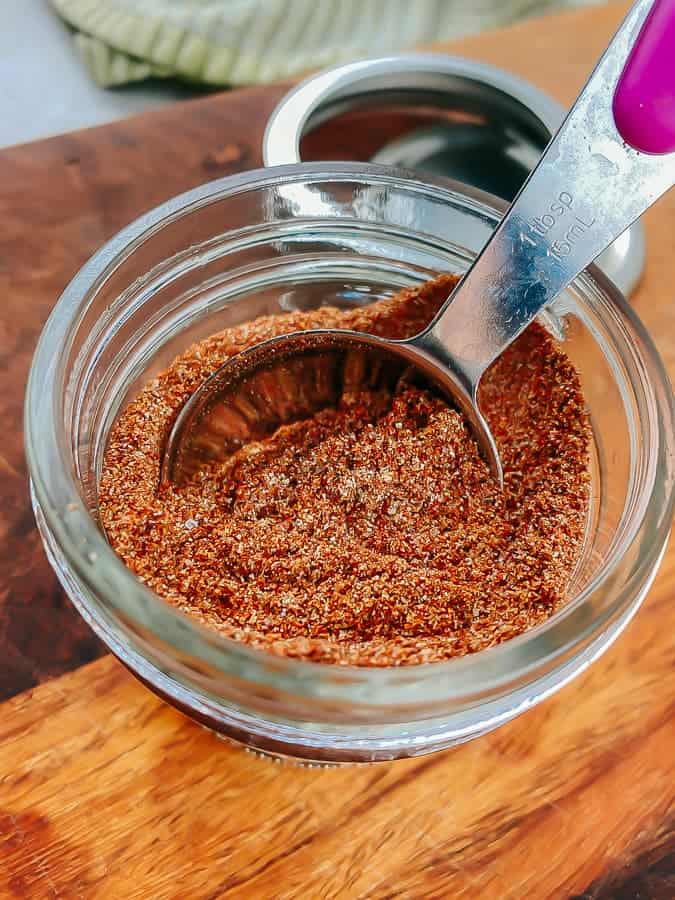 How much water to add to the taco seasoning and meat
You'll need to add about 1/2 cup of water to your meat and taco seasoning. Because there are no fillers, it won't thicken up like a store-bought seasoning mix. The water will just evaporate through the cooking process, but adding it helps evenly coat the meat.
Try this taco seasoning in our beef taco skillet!
How much does this recipe for taco seasoning make?
This recipe makes enough seasoning for 2-3 lbs of meat, depending on how much is used. If you use 2 tablespoons per pound of meat as recommended, you'll have enough for two pounds of meat with a little left over. If your family likes things a little less spicy, it should last for three pounds.
However, making it in bulk is a GREAT idea. It will be your go-to mix for tacos, burritos, enchiladas, soups, and lots of other dishes. You can never have too much on hand!
This low carb taco seasoning works for beef, chicken, or turkey in the 2 TBSP to one pound of meat ratio. Remember to brown the meat first before adding the taco seasoning. If you use it for fish tacos (especially mild fish), you may want to cut the seasoning in half and then taste it from there.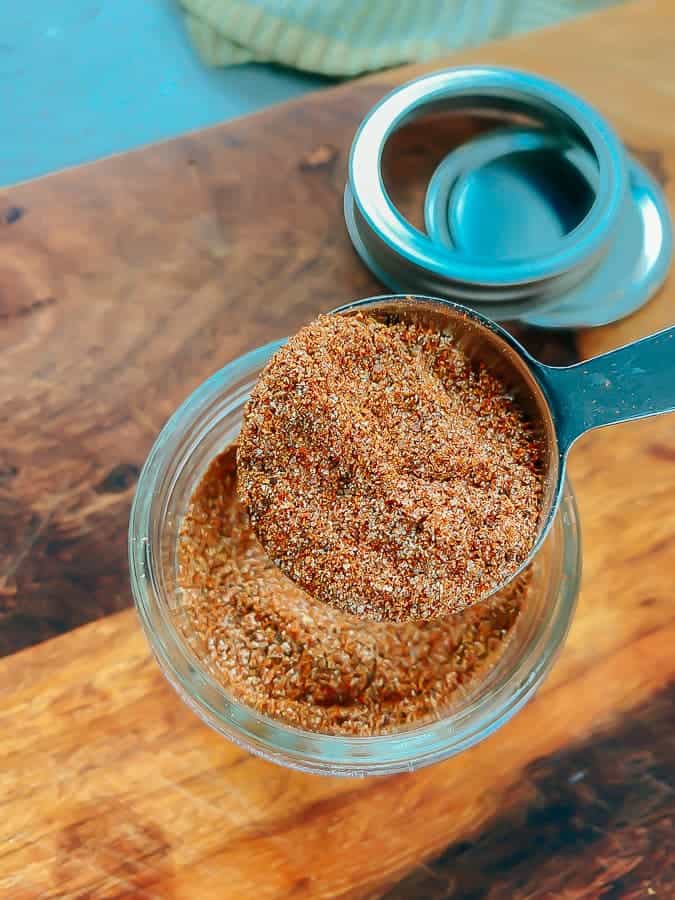 Uses for homemade taco seasoning
If you make a huge batch of this homemade taco mix, you're likely looking for lots of ways to use it. Here are some of our favorite low carb ideas for it:
What do you plan to use this keto taco seasoning for? Let us know in the comments!
Yield: 5 tablespoons
Keto Taco Seasoning Recipe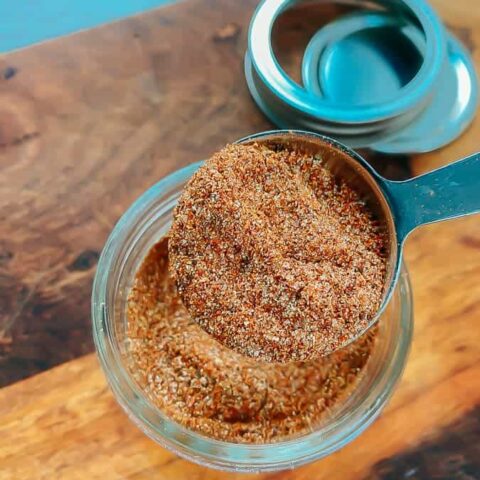 Taco Tuesday is here and you're in need of a keto taco seasoning recipe. Here are the ingredients for this simple, but delicious taco seasoning mix that will help make your tacos low-carb, gluten-free, grain-free, sugar-free, or paleo!
Ingredients
2 T. chili powder
1 T. ground cumin
1 t. ground coriander
2 t. garlic powder
1 t. smoked paprika
1 ½ t. fine sea salt
1 t. ground black pepper
½ t. ground white pepper
¼ - ½ t. cayenne pepper*
Instructions
Measure out all the spices, and add them to a small bowl.
Combine them with a fork or whisk until they are well mixed.
Store any remaining taco seasoning in an airtight jar.
Nutrition Information:
Yield:
5
Serving Size:
1 tablespoon
Amount Per Serving:
Calories:

22
Total Fat:

1g
Saturated Fat:

0g
Trans Fat:

0g
Unsaturated Fat:

1g
Cholesterol:

0mg
Sodium:

793mg
Carbohydrates:

4g
Fiber:

2g
Sugar:

0g
Protein:

1g
These nutritional calculations might not be accurate. Please speak with a licensed nutritionist to assist you.