As the weather cools down and leaves begin to change colors, it's time to start thinking about fall flavors. And what better way to celebrate the season than with delicious fall fish recipes that highlight the tastes of autumn? Whether you're a seasoned chef or a beginner in the kitchen, these fall fish dishes are sure to impress your family and friends.
Not only is seafood a great source of protein, but it also offers numerous health benefits such as omega-3 fatty acids and vitamin D. So grab your apron and let's dive into some mouth-watering fall fish recipes!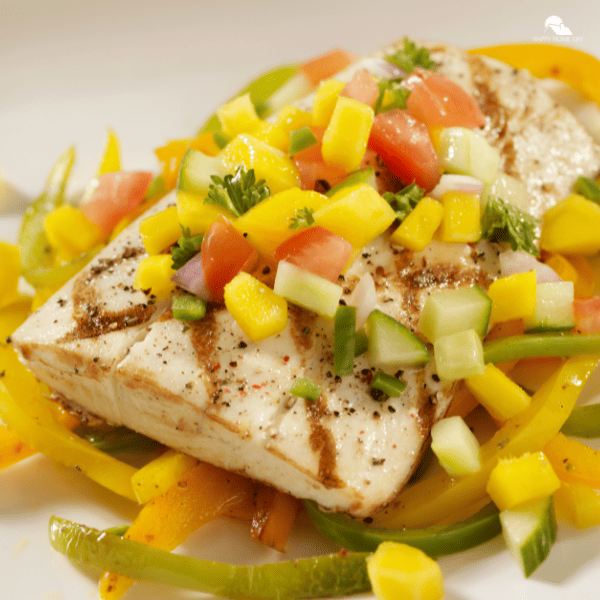 Why cook fish in the Fall season?
While many people think of fall as a time for warm, hearty meals such as stews and casseroles, fish can also make an excellent addition to your fall menu. Not only is fish healthy and delicious, but there are also several reasons why you should consider cooking it during this time of year.
Firstly, fall is the perfect season for fishing. Cooler temperatures mean that fish are more active and easier to catch. This means that you can get fresher fish straight from the water and enjoy its full flavor in your cooking. Additionally, certain types of fish such as salmon and trout are at their best during the fall months when they have had a chance to fatten up before the spawning season.
You might enjoy these posts:
Let's jumpstart your Fall season with these amazing fish recipes:
Pan-Seared Salmon with Maple Glaze
Pan-seared salmon with maple glaze is a delicious and easy-to-prepare dish that can be made in just a few minutes. This dish is perfect for those who are looking for a healthy meal that is also packed with flavor. The combination of the sweet maple glaze and the savory salmon creates a unique taste that is sure to satisfy your taste buds.
Grilled Swordfish with Pineapple Salsa
Grilled Swordfish with pineapple salsa combines the savory flavor of grilled swordfish with the sweet taste of fresh pineapple. This dish is perfect for anyone who loves seafood and wants to try something new and exciting.
Maple-Balsamic Glazed Cod with Butternut Squash and Brussels Sprouts
Maple-Balsamic Glazed Cod with Butternut Squash and Brussels Sprouts is a simple yet flavorful dish that combines the sweet flavors of butternut squash and the earthiness of Brussels sprouts. This dish is perfect for those who are looking for healthy, easy-to-prepare meals that do not require too much time in the kitchen.
Fish Chowder with Corn and Potato
Fish chowder with corn and potato is a hearty soup that's popular in the United States. It has a creamy texture and rich flavor, and is packed with nutrients. The dish contains chunks of fresh fish like cod or haddock, along with chunks of potatoes, sweet corn, onions, and celery.
Grilled Trout with Apple Stuffing
Grilled Trout with Apple Stuffing is a dish that incorporates the flavors of fresh, juicy apples and tender grilled fish. The trout is stuffed with an apple mixture that adds a sweet and savory taste to the dish. This meal combines healthy ingredients into one delicious serving.
Spicy Scallops with Pumpkin Puree
Spicy scallops with pumpkin puree combine the delicate flavor of seared scallops with the sweet and creamy taste of pumpkin puree. This dish is easy to prepare but looks and tastes like it was made by a professional chef. The dish can be served as an appetizer or main course and is perfect for special occasions or dinner parties.
Scallops are a type of shellfish that are prized for their sweet, delicate flavor. They are usually sold fresh or frozen and can be found at most seafood markets or grocery stores. When cooking scallops, it is important to not overcook them as they can become tough and rubbery. Seared scallops are cooked quickly in a hot pan until they have a golden brown crust on the outside while still being tender and moist on the inside.
Baked Salmon with Cranberry Relish
Baked salmon with cranberry relish is a healthy meal that can be prepared in just a few simple steps. This dish is perfect for those who are looking for a flavorful, nutritious, and easy-to-make seafood option. Baked salmon with cranberry relish typically involves roasting fresh salmon fillets in the oven until they are tender and flaky.
To add an extra layer of flavor to this dish, many people choose to serve their baked salmon alongside a sweet and tangy cranberry relish. This relish is made by combining fresh or frozen cranberries with sugar, orange zest, and other spices like cinnamon or ginger. The result is a colorful topping that perfectly complements the rich flavor of the baked salmon.
Overall, baked salmon with cranberry relish is an excellent choice for anyone who wants to enjoy a healthy yet flavorful meal that can be easily prepared at home.
Avocado Mango Tuna Poke Salad Bowl
If you're a fan of healthy and delicious food, then you've probably heard about the Avocado Mango Tuna Poke Salad Bowl. This meal is a combination of different ingredients that come together perfectly to create an irresistible taste. The dish originated in Hawaii, where "poke" means to slice or cut into small pieces.
Smoked Salmon and Butternut Squash Quiche
Smoked Salmon and Butternut Squash Quiche is a savory dish that combines the rich flavors of smoked salmon with the subtle sweetness of butternut squash. It is a delicious and healthy meal that can be enjoyed any time of day.
The quiche can be made in advance and reheated in the oven, making it perfect for busy weeknights or entertaining guests. The crust is made from a combination of flour, butter, and water, while the filling consists of eggs, cream, smoked salmon, butternut squash, cheese, onions, and other seasonings. The result is a flavorful quiche that is both creamy and satisfying.
Whether you are looking for an easy breakfast option or a hearty dinner to share with friends and family, Smoked Salmon and Butternut Squash Quiche are sure to please.
Halibut with Fennel, Peppers, and Tomatoes
Halibut with Fennel, Peppers, and Tomatoes is an easy-to-make dish that is perfect for anyone looking to switch up their usual dinner routine. Not only is it delicious, but it's also healthy and packed full of flavor.
Fish Tacos with Honey-Cumin Cilantro Slaw and Chipotle Mayo
Fish tacos with honey-cumin cilantro slaw and chipotle mayo is a Mexican dish that has become increasingly popular in recent years. It's made of crispy fish, typically fried or grilled, served on a warm tortilla topped with fresh vegetables, aromatic herbs, and creamy sauces.
The honey-cumin cilantro slaw is made by mixing shredded cabbage, carrots, red onion, and fresh cilantro with honey and cumin dressing. The result is a sweet yet tangy flavor that perfectly complements the savory fish. On top of this slaw goes the chipotle mayo sauce made by blending mayonnaise and canned chipotle peppers until smooth. This spicy sauce adds an extra kick to the taco while also balancing out the sweetness of the slaw.
Crab-Stuffed Acorn Squash
Crab-Stuffed Acorn Squash combines fresh crab meat with roasted acorn squash. This dish is perfect for those who are looking for a healthy and flavorful meal, as it contains a lot of nutrients and protein.
It makes an excellent appetizer or main course when served alongside some fresh greens or a side salad. It's also a great way to use up leftover crab meat from other recipes.
New Orleans Fried Catfish
As the name suggests, the New Orleans Fried Catfish is made by deep-frying catfish in a batter that typically includes cornmeal and spices. The result is a crispy golden crust on the outside and tender, juicy fish on the inside.
Seafood Gumbo with Okra and Sausage
Seafood Gumbo with Okra and Sausage is a dish particularly famous in Louisiana. This flavorful stew consists of a mix of seafood, vegetables, and sausage served over rice. The star ingredient in this dish is okra – a vegetable that adds a unique texture to the gumbo.
The key ingredients for this recipe are seafood such as shrimp and crab meat, vegetables such as onions, bell peppers, and celery, sausage (usually Andouille), chicken stock, spices like cayenne pepper and thyme, and of course okra. The dish has African roots but has been influenced by French cuisine due to Louisiana's history. Cooking gumbo can be tricky because it requires long cooking times to develop its deep flavors.
Lemon and Herb-Grilled Shrimp Skewers
Lemon and herb-grilled shrimp skewers are easy to make, and it's an excellent way to enjoy fresh seafood while taking in the crisp autumn air. The combination of lemon and herbs adds a wonderful flavor to the shrimp, making this dish both savory and refreshing.
Mushroom Risotto with Seared Scallops and Peas
Mushroom Risotto with Seared Scallops and Peas is a classic Italian comfort food that's perfect for any occasion. It's made with Arborio rice, mushrooms, Parmesan cheese, garlic, onion, peas, scallops, and chicken stock. This dish is creamy and rich in flavor all at the same time!
The key to making this recipe is to take your time when cooking the risotto. You need to constantly stir it and add liquid little by little until it reaches the perfect consistency. The mushrooms add an earthy flavor while the seared scallops give it a slightly sweet taste that perfectly complements the savory flavors of the risotto. The peas are a great addition as they provide a fresh pop of color and texture to each bite.
Balsamic-Glazed Salmon with Roasted Vegetables
Balsamic-glazed salmon with roasted vegetables is a healthy meal that can be enjoyed by anyone, regardless of their cooking skills. This dish is a perfect combination of rich flavors and textures, offering a myriad of health benefits.
Grilled Mahi-Mahi with Mango Salsa
Grilled Mahi-Mahi with Mango Salsa is something that you can easily make at home. Mahi-mahi is a type of fish that's commonly found in the tropical waters of the Pacific Ocean. It's low in fat, high in protein, and has a mild, sweet flavor.
Miso-Broiled Black Cod with Bok Choy
Miso-broiled black cod with bok choy is a Japanese dish that consists of fresh, flaky black cod fillets that are marinated in a mixture of miso paste, sake, and mirin before being broiled until lightly charred. The bok choy is then cooked alongside the fish until tender and slightly wilted.
The secret to this dish's success lies in the combination of sweet and savory flavors that come together to create a truly unique taste experience. The miso marinade offers a rich umami flavor that complements the delicate sweetness of the black cod perfectly, while the bok choy provides a refreshing crunch and subtle bitterness to balance out all those bold flavors.
Cioppino (Italian Seafood Stew)
Cioppino is a traditional Italian seafood stew that originated in San Francisco. It is a hearty dish that combines fresh seafood, tomatoes, and other flavorful ingredients. The dish is typically enjoyed as a main course and is perfect for sharing with family and friends.
The history of Cioppino dates back to the late 1800s when Italian fishermen in San Francisco would bring their daily catch to the wharf. They would then combine their catch with tomatoes, onions, garlic, and other herbs to create a delicious seafood stew. Over time, the recipe evolved as different types of seafood were added to give it more depth of flavor.
Today, Cioppino remains a popular dish in many Italian-American households and restaurants across the United States. It's not only delicious but also easy to prepare at home.
Parmesan-Crusted Tilapia with Roasted Tomatoes
Parmesan-crusted tilapia with roasted tomatoes is a flavorful and easy-to-make dish that's perfect for any occasion. This dish is made up of tender, flaky white fish fillets that are coated in a crunchy layer of parmesan cheese and breadcrumbs. The dish gets its name from the delicious crust formed on top of the fish.
The roasted tomatoes add extra flavor to this already mouthwatering meal. They're cooked in the oven until they're soft and sweet, giving off a wonderful aroma that will make your mouth water. When combined with the crispy tilapia, you'll have a delightful burst of flavors in every bite.
This dish is not only tasty but also healthy—tilapia is low in calories but high in protein, making it an excellent choice for those who want to maintain their weight while still enjoying delicious meals.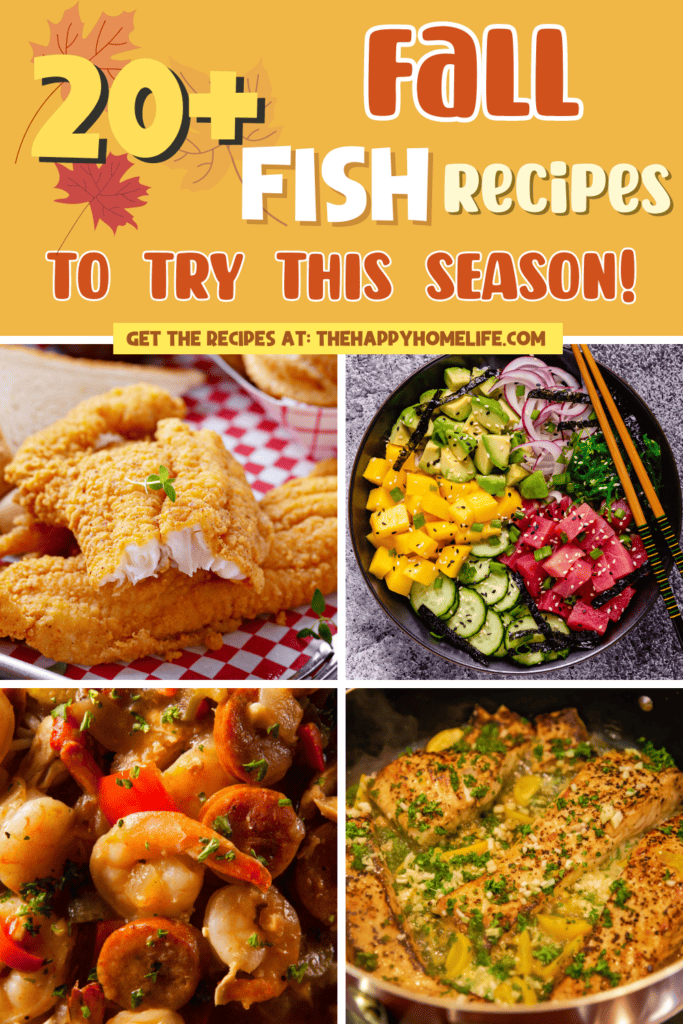 Fall fish recipes are a great way to incorporate seasonal ingredients into your meals while enjoying the benefits of healthy seafood. Whether you prefer to grill, bake or pan-fry your fish, plenty of delicious and easy-to-follow recipes will satisfy your taste buds and impress your dinner guests.
From classic salmon dishes with maple glaze to fish tacos, the possibilities are endless for fall fish recipes. So why not try something new this season and discover the joys of cooking with fresh seafood? Your body and taste buds will thank you!