What Should A Guest Bring To A BBQ? When attending a BBQ as a guest, it's important to prepare ahead and bring some essentials to fully enjoy the gathering. Depending on the type of BBQ, location, and theme, there are different items that might come in handy. 
You may want to ask the host if they need any specific dish or drink to be brought for the party. However, typically guests are expected to bring their own drinks, especially if it's a BYOB (Bring Your Own Beverage) event.
Other items you can consider bringing include sunscreen, bug spray, comfortable seating arrangements like folding chairs and portable tables, and perhaps games or activities to play. Depending on the time of day and amount of guests present, bringing lined paper plates or disposable cups can also be helpful.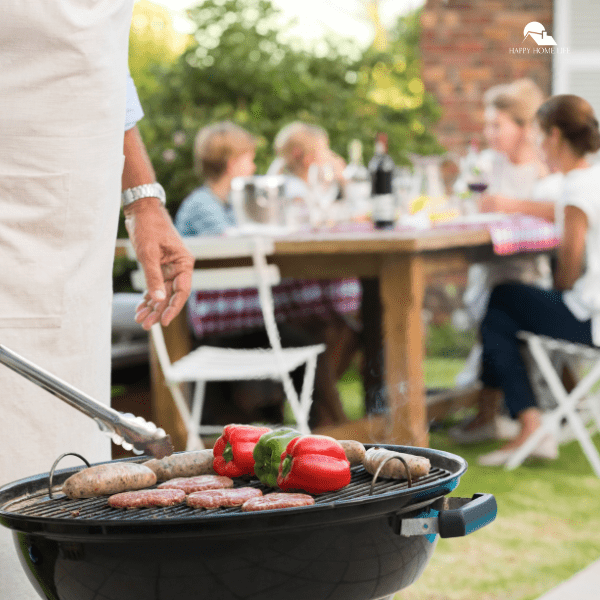 7 Things A Guest Should Bring to A BBQ
Ultimately, just come prepared with everything you need to have a great time when attending a BBQ! Here are some ideas for items that would be welcomed at any BBQ.
Meat
If your host is providing the grill, consider bringing some meat to throw on it. Burgers, chicken, hot dogs, and sausages are always crowd-pleasers. If you're feeling adventurous, try marinating or seasoning the meat beforehand for an extra flavor boost.
Side dishes
The host is likely providing the main course, so consider bringing a side dish or two to help round out the meal. Coleslaw or pasta salad are classic choices, but don't be afraid to get creative with roasted vegetables or a quinoa salad.
You might enjoy these posts:
Drinks
It's always wise to BYOB (bring your own beverages) to a BBQ. A six-pack of beer or bottle of wine are great options but don't forget about non-alcoholic drinks too – like lemonade or fruit punch.
Dessert
No BBQ is complete without something sweet at the end of the meal. Bring along cookies, brownies, or cupcakes for an easy-to-serve option. Or if you really want to impress your friends/family, bring along ingredients for s'mores and make them over the fire pit!
Utensils/plates/cups
It's easy for hosts to underestimate how many utensils/plates/cups they'll need for their guests so it doesn't hurt to bring disposable tableware as a backup.
Ice
Plenty of ice is essential for keeping drinks cold (and free-flowing!).
A positive attitude
No event is complete without enthusiasm for good vibes! Your guests should come prepared with smiles and conversation starters that will keep everyone engaged throughout the evening.
When attending a barbecue as a guest, remember that there may be extra tasks you can assist with like setting up tables, chairs, décor, and cleanup afterward. Making yourself useful will do wonders towards helping out your hosts! Of course, we all know that the best way for any guest to contribute is by enjoying great food and company after it's all said and done.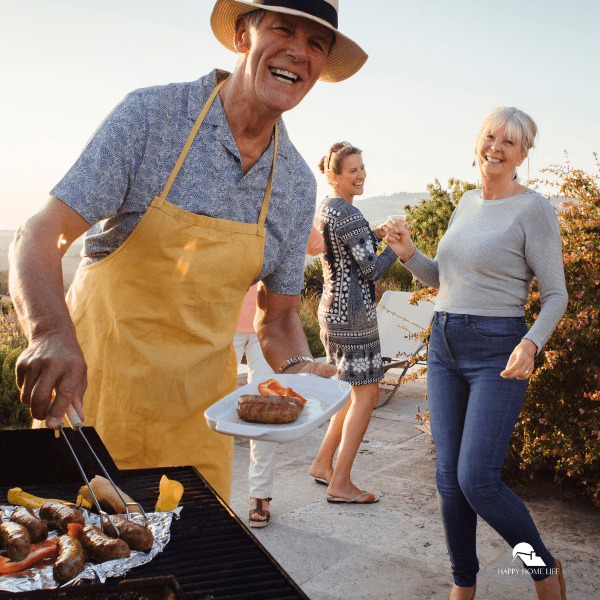 What should I bring to a last-minute BBQ?
If you're heading to a last-minute barbecue, you'll want to make sure you bring items that are easy to transport and set up. Here are some items that are great for last-minute barbecues:
Ice
Having ice on hand can help create enjoyable drinks like iced tea, iced coffee, or even slushy cocktails. Depending on the size of the party, you can buy a bag of ice cubes from your local grocery store or order in bulk. If you're having an outdoor party and need to keep your drinks cold throughout the day, bringing a cooler full of ice will become essential.
Condiments
Condiments provide flavor and variety to foods served at a BBQ, and they provide an easy way to customize the meal to meet each person's tastes. Must-have condiments for last-minute BBQs include ketchup, mustard, mayonnaise, relish, hot sauce, barbecue sauce, salad dressing, and salsa.
Utensils
Some common items to bring include plates, cups, napkins, silverware, and serving utensils. If you're using disposable items such as paper plates or plastic cutlery, make sure you bring enough for everyone!
Games
Bring a few fun party games like cards or lawn darts to keep everyone entertained. Games encourage interaction between guests, which helps foster relationships and build connections. It can also help break the ice among unfamiliar people who may not know each other well.
Music
Whether it's a portable speaker or an impromptu band of performers, having music at the barbecue will surely liven things up! Music can be used to set the mood and give the event a bit more energy. Music can also provide a distraction if conversations start to lag or people are getting tired.
Chips and dip
Chips and dip are a great option for a last-minute BBQ because they are easy to make, require minimal ingredients, and provide a crowd-pleasing snack.
For example, you can quickly whip up a batch of guacamole or salsa with fresh vegetables from the produce section of your local grocery store. Nothing beats the combination of crunchy chips and creamy dip! 
Store-bought salad
You can quickly pick up a pre-made one at your local grocery store. You can often find a variety of flavors and types to suit your taste or the needs of any vegan or vegetarian guests. Finally, pre-made salads are typically affordable and cost much less than making one from scratch using individual ingredients.
Fruit platter
A fruit platter is an excellent choice for a last-minute BBQ because it is quick and easy to prepare, provides instant visual appeal to the table, and is a healthier alternative to traditional barbecue fare.
Beer or soda
These drinks are crowd pleasers – everyone enjoys a cold beverage when gathered outdoors. However, it is important to take into consideration the preferences of your host when selecting beverages for a BBQ. If you know what their favorite drinks are, bring those – if not, then consider asking beforehand or bringing a variety of options for guests to try.
Kabobs
If you have access to skewers, cut up some veggies and meat (or tofu for vegetarians) and put together some kabobs that can be thrown on the grill.
S'mores ingredients
If there will be a fire pit or place to roast marshmallows, bring graham crackers, chocolate bars, and marshmallows for DIY s'mores.
Remember, it's always better to bring something than nothing at all!