Summer is the perfect time to enjoy delicious, no-fuss pasta salads. Summer pasta salads are easy to make and serve and provide a variety of flavors that can satisfy any palate. Whether you are looking for a light lunch or a side dish to bring to your next picnic, pasta salad is an ideal choice. We've rounded up a collection of delicious summer pasta salad recipes that are sure to tantalize your taste buds.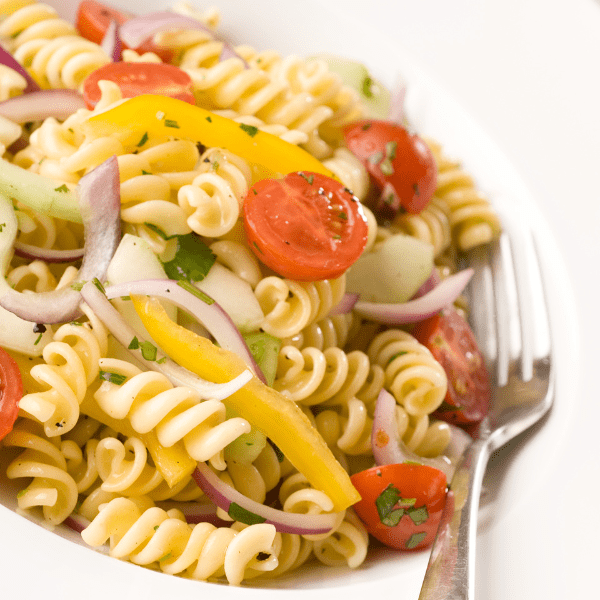 You might enjoy these summer recipes:
What Summer Pasta Salad Recipes Should I Have?
Pasta salad is a classic summer dish that's perfect for outdoor gatherings and picnics. There are a variety of pasta salad recipes that you can try, but here are popular options that are perfect for summer:
This Mediterranean Pasta Salad is the perfect way to enjoy the flavors of summer! All these flavors blend together beautifully to create a light but filling meal that your family will love. This vegan-friendly recipe is an easy one-dish wonder–boil up some pasta and toss everything together for a no-fuss dinner or lunch.
This Caprese Pasta Salad is the perfect combination of fresh and flavorful ingredients for any occasion! Not only is it delicious, but it's also healthy, thanks to its high protein content from the pasta and low-fat content from the cheese.
Make your summer menu the envy of your friends and family with this delicious Chicken Caesar Pasta Salad! This pasta salad is loaded with flavor and made from the freshest ingredients. Packed with protein-rich chicken and fiber-filled veggies, this dish is not only flavorful but healthy too.
Take your taste buds on a delicious journey with Pesto Tortellini Pasta Salad! This unique mix of flavors and textures is sure to tantalize your pallet. Perfect as a side dish or hearty main course option, this salad is sure to join the ranks of your favorite summer meals.
Sesame Pasta Salad is a light, summery and delicious side dish that's sure to please. Made with the freshest ingredients, this salad combines pasta, crisp vegetables, and savory sesame for an Asian-inspired flavor burst. From picnics and potlucks to backyard BBQs, this pasta salad takes the guesswork out of what to serve when your guests arrive.
It's time to add some zest to your meals with a tasty Dill Pickle Pasta Salad. This Dill Pickle Pasta Salad has all the right notes of dill flavor combined with a light sweetness from the crunchy pickles. All you have to do is mix all the ingredients together with love and serve it chilled. Not only does it taste amazing, but it also provides essential vitamins and minerals for balanced gut health. Serve it as an appetizer on hot summer days or as a side at any family gathering.
If you love the taste of freshly grilled Mexican street corn and crave the deliciousness of a perfectly cooked pasta dish, then this Mexican Street Corn Pasta Salad is the perfect mix of flavors for you! Enjoy the perfect union of flavors when you whip up Mexican Street Corn Pasta Salad for dinner tonight – it's bursting with deliciousness!
This Lemon Herb Mediterranean Pasta Salad is fresh, flavorful, and so simple to prepare! This pasta salad, made with simple everyday ingredients that are healthy for you and your family, will keep you satisfied!
The best macaroni salad you'll ever have is a simple recipe of pasta tossed in a lemon-thyme dressing and topped with fresh avocado, and applewood smoked bacon.
This Summer Salmon Pasta Salad is the perfect lunch or dinner option that will satisfy any craving while also providing a nutritional boost. Packed with cooked salmon and al dente whole wheat pasta noodles, this salad is full of flavor and texture. It's drizzled with an irresistible homemade lemon-basil dressing and tossed in crunchy vegetables for a delicious dish everyone will love.
We love pasta salads, including a delicious Summer Pasta Salad, Chopped Greek Pasta Salad, and a delectable Italian Pasta Salad. Carbs are fantastic, and what better way to consume them than in the form of pasta?
In this Bacon Ranch Pasta Salad, tender pasta is tossed with rich ranch sauce, bacon, and tons of other delicious ingredients. This pasta salad is always a success and is ideal for summer parties!
Warm up to the ultimate comfort dish with this delicious Chicken Sausage and Broccoli Pasta. It's a perfect combination that brings out all the flavor of chicken sausage, blended with the subtle sweetness of broccoli and cooked in hearty al dente pasta. Enjoy creamy textures and full-bodied flavors as you savor this delectable meal.
Tomato Mozzarella Pasta Salad is an unbeatable combination of flavors that will tantalize your taste buds and leave you wanting more! Not only will it add something special to any meal, but it's also full of nutrients that are good for your health.
This healthy tuna pasta salad packed with crunch and flavor is made with gluten-free pasta, protein-packed tuna, fresh vegetables, and creamy dill dressing. You can make it within minutes, making it one of the best tuna salad recipes in existence! On top of that, it is completely gluten-free!
This vegan Greek pasta salad dish is a simple, light summer salad with feta cheese, olives, sweet tomatoes, and crunchy cucumbers, all tossed in a homemade dressing. Perfect to offer as a side dish or a main meal at summer cookouts and potlucks.
Pasta and your preferred vegetables are combined in the light and refreshing Lemon Balsamic Summer Pasta Salad. Perfect for outings and summertime barbecues!
This Simple Grilled Zucchini Pasta Salad is a summery dish! The freshness of lemon, corn, parmesan, and zucchini is combined with the pasta. Turn this side dish into a summertime meal by topping it with poultry. This recipe will quickly become one of your favorites!
Get excited – because it's time for Pizza Pasta Salad! This fun, summer dish is easy to make and full of flavor. The combination of pasta, mozzarella, pepperoni, and other Italian flavors will have your guests asking for seconds! Enjoy this tasty dish at any gathering or just as a light meal on hot days.
Taco Pasta Salad is a great summer salad. It's made with a combination of classic Mexican flavors and pasta, making it sure to please any palate. Adding in your favorite taco seasonings makes it even more flavorful.
Creamy Chicken Pasta Salad is a delicious and easy-to-make dish that fits perfectly into any meal. The creamy sauce adds tons of flavor and makes it extra rich, while the chicken adds some protein to keep your guests satisfied. Serve it with a side salad or even add some crunchy vegetables for an extra special touch.
This type of pasta salad recipe combines pasta of your choice with the freshest of veggies and shredded chicken all tossed in a homemade buffalo sauce. It's a much healthier version, and it cooks quickly, is easy to prepare, and absolutely delicious.
Pimento Cheese Pasta Salad is perfect for those who want something a bit lighter but still full of flavor. A creamy, flavorful alternative to your standard pasta salad, Pimento Cheese Pasta Salad will delight your taste buds every time!
If you want to add a little Mediterranean flair to your next meal, look no further than this delicious Mediterranean Pasta Salad. Featuring juicy grilled pork tenderloin, tangy feta cheese, and arugula, this salad bursts with refreshing flavors that will awaken your taste buds.
Add in some zesty capers, briny olives, and bright lemon zest, and this salad will transport you to the crystal-clear waters and beautiful landscapes of the Mediterranean. Topped off with a homemade balsamic dressing, every bite bursts with flavor and texture.
Zesty Italian Pasta Salad is both light and flavorful, making it a great choice for lunch or as a side dish. Sprinkle feta cheese on top to give it an extra layer of deliciousness. Made with penne pasta, juicy tomatoes, tangy pepperoncini, salami, olives, and a zesty Italian dressing, it's sure to be a hit with everyone.