Christmas is a time for family, friends, and celebrating. Whether you're hosting or attending a party, it's always fun to get in the kitchen and whip up a meal. However, with so many things to do on Christmas Eve, it can be difficult to finish everything in time. That's where prepping dinner for the next day comes in handy.
Some people prefer to do their holiday cooking the night before, so they can relax and enjoy the festivities. Others like to prepare everything in advance, so they don't have to fuss and bother with it on Christmas Day. Whichever way you choose to go about it, you'll need a few things to ensure your meal is festive and delicious.
You might like these posts:
First and foremost, ensure that all ingredients are prepared and ready. This includes all the perishables, like meats and vegetables, and any staples like flour or sugar. You'll also want to consider what kind of dish you'd like to prepare. A classic roast turkey or ham will require different preparation than a fruit tart or pudding.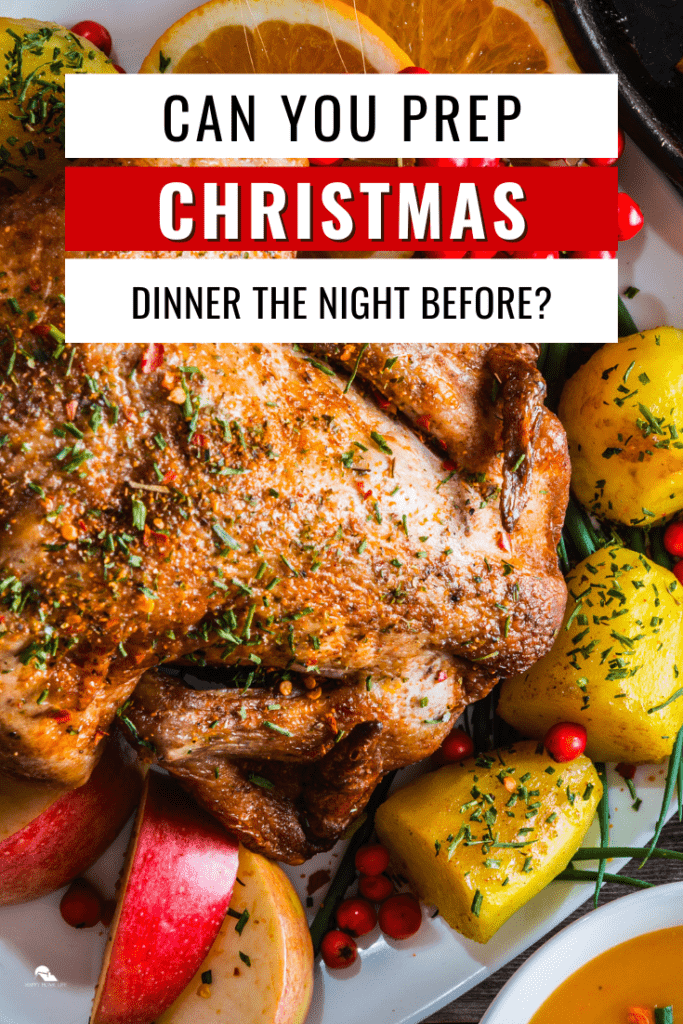 Can you cook Christmas dinner the day before?
Preparing a festive feast the day before is possible and having it ready to eat when your loved ones arrive is possible. You'll need a few things on hand, like ingredients for stuffing, gravy, and mashed potatoes. And don't forget the cranberry sauce or eggnog!
What food can be prepared the day before Christmas?
There are a few easy recipes that can be prepped ahead of time and put into the oven when you're ready to eat. Here are recipes for an easy Christmas dinner you can cook the day before.
This delicious side can be prepared up to a month in advance, saving you time on Christmas morning to relax and participate in the festivities. No one will suspect that the crispy potatoes you par-boil and freeze weren't made the same day.
This delicious, cheesy dip is hefty. It's comparable to the spinach and artichoke appetizer dips you'll find at your favorite restaurants. This dip is great for gatherings and goes well with tortilla chips as well. Try this at your upcoming Christmas gathering!
The beef brisket fills the house with a comforting aroma and is ideal for cuddling up on the couch. This traditional beef brisket prepared in a slow cooker is ideal if you're searching for a beautiful but simple Christmas supper to get you through the long winter or to offer during the impending holidays.
When you serve prime rib, it's one of those dishes that commands attention. It's so simple to prepare and always turns soft, juicy, and wonderful with a salt and pepper crust. It is really delicious, and my entire family and visitors always enjoy it.
Any time of year, homemade gravy is preferable to store-bought sauce; on Christmas Day, this recipe will elevate your roast to a whole new level. Keep in the refrigerator or three months in the freezer for up to three days. Add the turkey's roasting juices when you're ready to heat and serve for a special finishing touch.
Follow the instructions for making the cinnamon rolls in advance. These are fantastic cooked in advance and served warm on Christmas morning for breakfast and dessert!
Since it is inherently gluten-free and adaptable to dairy-free and vegan diets, it is simple, quick, almost flawless, and adaptive to many dietary alterations.
With a roast, delicious trimmings can really make a difference. Only three ingredients are needed to make this traditional cranberry sauce, which may be stored in the refrigerator for up to a week.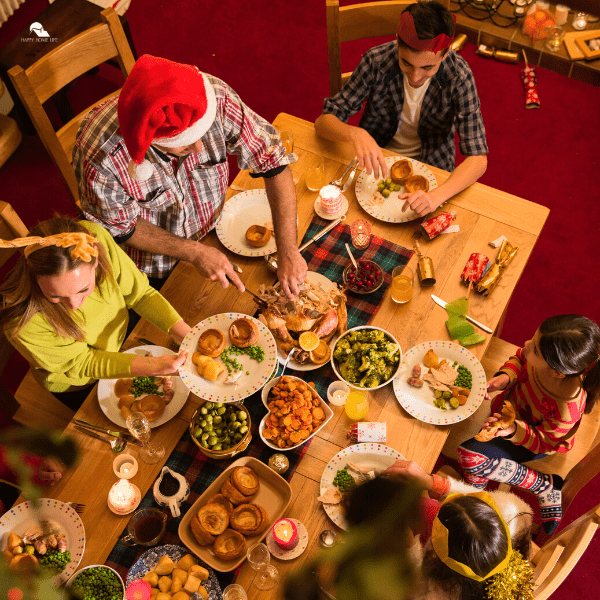 Tips for preparing Christmas dinner in advance
If you're like most people, you love to get things done early in the day to relax and enjoy your evening. That's why we've put together a list of tips for preparing your Christmas dinner in advance. Whether you're cooking a traditional feast or want to ensure that your side dishes and desserts are ready, following these simple tips will help make your holiday meal a breeze.
Plan your menu well in advance
Once you have a good idea of what dishes you want to serve, start planning their ingredients and cooking instructions early. This will help keep things organized and minimize last-minute scrambling.
Make sure all of your ingredients are prepped
Not only will this save time during dinner prep, but it will also speed up the overall meal preparation process. Plus, having everything on hand will give you peace of mind when it comes to serving guests!
Prepare your vegetables
Peeled vegetables should be placed in pans of cold water overnight, including potatoes, carrots, parsnips, and any other vegetables you plan to eat. You'll avoid a lot of hassle and extra clutter on Christmas morning if you do this. To save even more time, you may pre-cook the potatoes and parsnips on Christmas Eve if your refrigerator has plenty of room.
Get the stuffing done first
If you're stuffing a bird or a turkey, combine everything the night before and put a bowl in the refrigerator. Alternatively, you can prepare it up to three weeks in advance and freeze it in a tight container. To reduce the danger of food illness, however, wait to load the bird until just before it goes into the oven.
Mix the sauce and marinade
Prepare the sauces two days in advance if you're serving a basic green salad, creamy prawn cocktail, or zingy herb salad. The finished dressings need only be placed in sealed jars and kept in the refrigerator until used.
Brine the turkey
Since turkey is lean meat, it may easily become dry; therefore, brining your bird for about 12 hours is advised before cooking it in the oven. The additional moisture it absorbs during this procedure keeps the meat luscious and moist, and the brining liquid also helps season the meat.
Make the mincemeat
Consider having your fruit mixture ready at the start of December and storing it in a tightly sealed jar until needed if you can't fathom Christmas without mincemeat pies and tarts. This will shorten the preparation time for your treats and ensure they taste much better.