My husband works in a restaurant so he brought home two big bags of wine corks for me to have some fun with. We don't drink that much wine, but I love crafts made with wine corks. I have been wracking my brain for months trying to think of some cute ways to use these wine corks. Then I came up with this adorable Fall wine cork craft – mini pumpkins.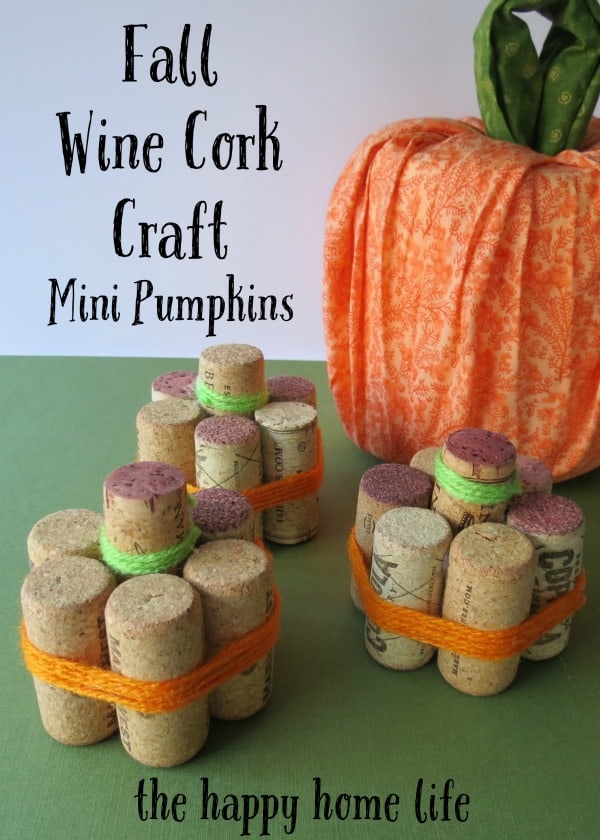 How to make a Fall wine cork craft – Mini Pumpkins
Supplies:
7 wine corks
Orange yarn
Green yarn
Hot glue gun with glue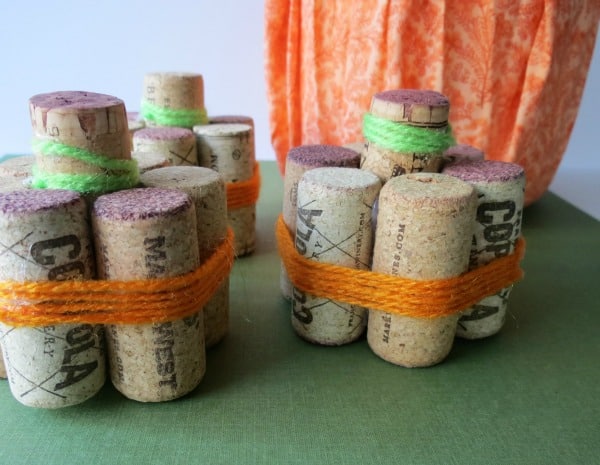 Directions:
Step 1 – Heat up the hot glue and get your items together.
Step 2 – Place a line of hot glue along the side of one wine cork and press it to another wine cork.
Step 3 – Take another wine cork and place some hot glue along 3/4 of a side, so that it is 1/4 of the way higher than the other two. Glue it to the second wine cork as well.
Step 4 – Continue gluing the wine corks around the center wine cork.
Step 5 – Wrap orange yarn around the center of the wine corks. I took a minimal approach and only wrapped the yarn around 5 times. You could wrap it around more than that or even all the way to cover it in orange. I wanted to keep the "wine cork" look.
Step 6 – Warp green yarn around the stem wine cork. Again, I only wrapped it around about 5 times so you could still see the wine cork.
That's it! It's so simple. I created 3 of them so I could place them on my fireplace mantel. You could create a fun little Fall centerpiece or grouping of mini pumpkins. My daughters loved the pumpkins because they were just the right size for little toddler hands. However, be careful because the hot glue won't stand up to little hands pulling at them.
I still have a ton of wine corks and I'm trying to think of another craft. What do you think I should make next?