I waited for the day I could start consigning kid's clothes from the moment I was pregnant with my first child. But I had to wait because we decided to have more children and I wanted to pass down as much as I could to her younger siblings. Finally came the day when I could start selling the old clothes and toys. I found a consignment sale nearby and signed up. I didn't know what to expect, but I learned a lot and I am here to share that information with you so you can make more money selling at consignment sales.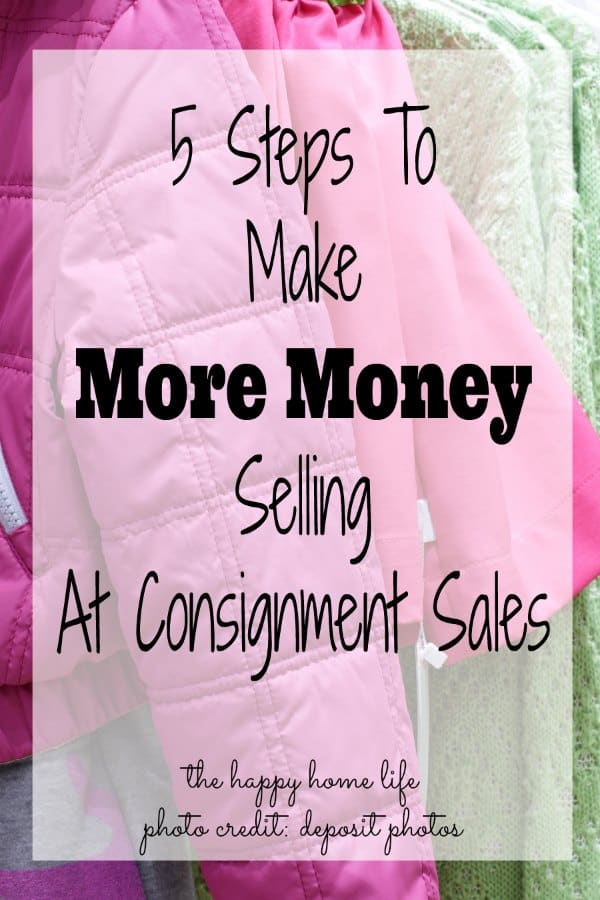 Step 1 – Connect with a friend to save money on supplies
The first thing I learned was that there were a lot of supplies I needed to make sure everything was sale ready.
Supplies:
Ziploc bags
Rubber bands
Special heavy weight paper in multiple specific colors
Hangers
About a million safety pins in multiple sizes
Printer
Computer
TIME
Save money by going in with a friend on some of these supplies. Especially regarding the heavy weight paper to print your price tags – you won't end up needing a whole ream of paper, so split it with a few friends.
Plan ahead to get Ziploc bags when they are on sale, with a coupon. Try to get hangers for free from kid's clothing stores, dry cleaners and friends.
Don't forget that your time is worth something! Start getting everything ready weeks in advance so you don't need to cram the night before.
Step 2 – Wash and hang clothes neatly
Just think about what you would want to see when you are buying used clothes. Make sure everything is clean, stain-free, hanging neatly and without any loose threads. Make every item as appealing as possible to buyers.
Step 3 – Put together outfits and bundles
Since prices are so low at consignment sales, you don't want to sell each item individually. Try to make bundles and outfits so the price is higher and also it is more appealing to buyers. They don't have to think about what the clothes will match with, when you set them up in outfits already. Make sure you bundle items that are the same size.
Step 4 – Pick a price that is not too high
This is a tough one – everyone thinks their items are worth more than they really are. You can price things higher than a garage sale, but there are some things to keep in mind when you set your price.
Competition – there are literally thousands of items at a consignment sale. Your items are one of many. If you price your items too high, the buyer will chose something else.
Clearance – don't price something higher than someone can buy new on clearance.
Step 5 – Follow the directions
Make sure you follow the directions on how the consignment sale wants you to get the clothes ready. They may even have videos to help you make sure everything is perfect. You don't want them to turn away a cute outfit just because you didn't follow the rules.
One important thing to watch out for is to make sure your items are seasonally appropriate. If you are selling at a Fall/Winter sale, then odds are they won't allow you to include bathing suits. So don't waste your time including items that don't fit the sale.
What do you think? Do you have any tips on making the most money at consignment sales?