Back to school season is in full force. Depending on where you live in the United States, your kids might already be in school. Back to School shopping can be exciting to some, and dreadful to others.
The fact is that back to school shopping affects our finances, and some of you are wasting your money this back to school season if you are not careful.
Your money is important, and making sure it doesn't go to waste is why I decided to write this post. It is understandable why we pour money on back to school shopping. We want the best for our kids, and we want to make sure they are ready for what they need before school starts.
Having crazy deals doesn't help us keep our money either. I mean, look at the amazing sales retailers are throwing each week, and the prices are low on things our children are going to need this upcoming school year. No worries, to help you enjoy a happy home life I have the best tips to stop you from wasting your money this back to school season.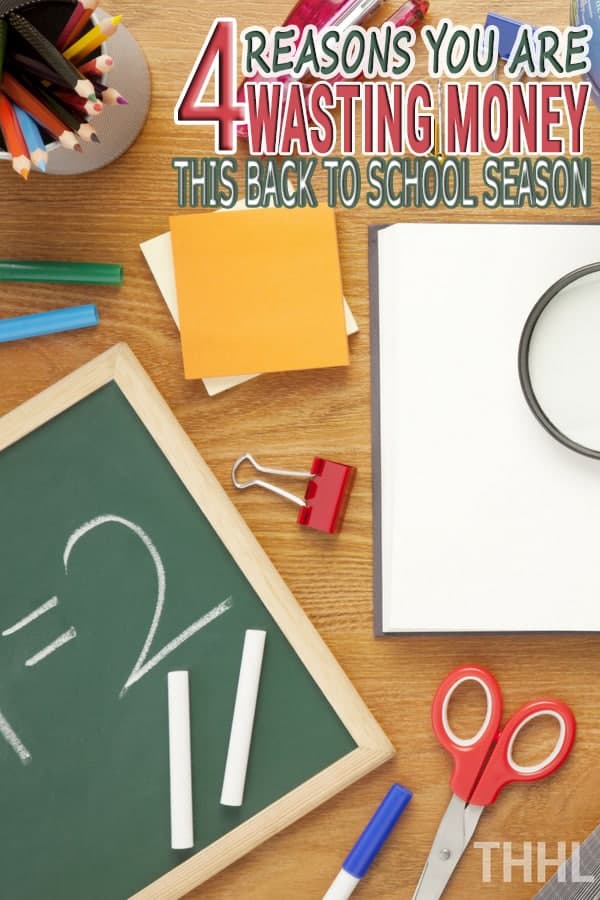 4 Reasons You Are Wasting Your Money This Back To School Season
No budget
If you didn't create a back to school budget, I have to say that you are wasting your money this back to school season. How much are you planning to spend this back to school season? How are you controlling your money when it comes to spending?
Having a back to school budget is extremely important. It's something that everyone needs to have in order to have a spending plan during this back to school shopping season.
No list
If you are going back to school shopping and you don't have a back to school list, you are going to waste money. How do you know what you need to buy? Do you know what supplies the school is requiring this upcoming back to school year?
Without a list, chances are you are either going to purchase items your kids don't need, or you won't get the items your child needs. Having a list of items you are going to buy will help you stay focused and help you stay on budget.
Not shopping the sales
Around back to school shopping season, retailers will have weekly sales starting around July 4th. Take advantage of these deals in order to save money. Having that back to school list, and looking at the sales each week, will help you to purchase the items your kids need at a low price.
Stick to needs, not wants
Back to school shopping season is huge for retailers. I know this because I worked retail for 15 years. Retailers draw consumers in with those rock bottom prices to get you to spend your money. The latest tablets and the latest trends are where consumers will spend their money.
Before you spend money on a new laptop, or the latest trend, ask yourself this: why are you buying it? Is it something that is needed? Can you find it used, or will another older version do just fine? If your child needs a scientific calculator, check to see if you can purchase it used.
This back to school season, you don't have to waste your money if you follow these tips. As parents, we want the best for our children and get them the necessities they are going to need before school begins. This doesn't mean you have to bust our budget to make it happen.
How will you avoid wasting money this back to school season?
(Visited 422 times, 1 visits today)
The following two tabs change content below.
Joyce is a stay at home mom of 3 (16, 4, and 2) married to wonderful man who loves finances and eliminating debt. Years ago Joyce decided that she will not let money control her or her life and decided to start eliminating her debt. She is now debt free (except the house) and trying to find a way of living a simple life.
Latest posts by Joyce Marrero (see all)