Getting two-child room decorating right can be challenging, especially if the kids are very different (which they usually are) and you don't have a lot of space. Yet you can make their dream room with some privacy options, clever use of space, and a touch of personalization.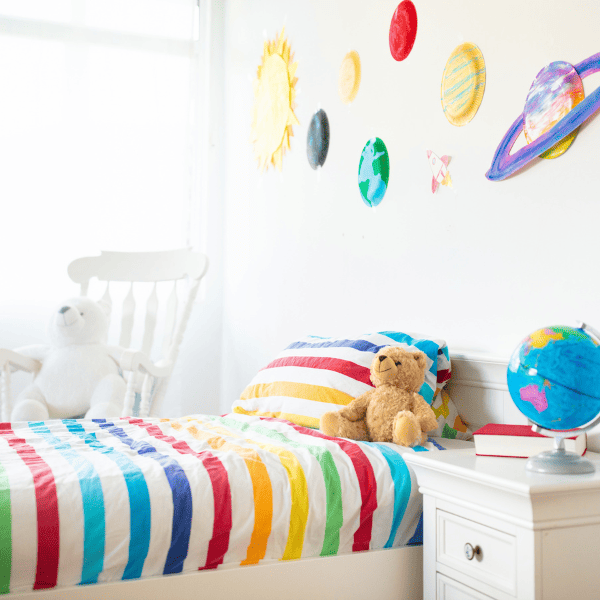 Get the Bed Measurements Right
The beds will almost always be the largest things in the room. Sometimes getting one in can be tricky. But two can be a nightmare. Luckily there are a few things you can do. Beforehand, it's always a good idea to measure the space you have against the size of the beds. This will help you figure out what you can and cannot do. This article, Twin Mattress For Kids: The Complete Buying Guide, can help you decide how to work with the space for your kids' beds.
Two-Child Room Decorating Needs Privacy
As adults, we crave privacy as a right. But your kids also have a right to privacy, which can help them understand what it means as they grow. A room divider is a quick and easy item that works really well. All you need to do is place it between your kids' beds.
You can do this back to back or side by side. Or you can use other items, such as dressers and bookcases, to use space better by not adding another large object to a smaller room.
Split the Room in Half
Room dividers can help discern privacy areas for each of your kids. But they also help split the room into two. Splitting the room in half helps your kids learn about boundaries and respect for others. You can have each child's personal stuff on their respective sides.
This means they can do their homework or play as they see fit, with minimal disruption. This can also help when it comes to personalizing each half for each of your children, which they will love.
Add Personal Touches for the Kids
Children love personalized spaces. And if you have more than one child, you will know just how different each of your kids is from a very early age. So make their own space with these tips:
Allow each child to choose a theme or color scheme for each side of the room.
Discuss the decor with them if you don't want to mix the colors and patterns.
Assign areas for each child's toys, games, and study areas with things like chalkboards.
Keep the decor simple and neutral to allow the kids to imprint their personalities.
Paint the kids' beds or allow them to choose decor instead of the walls and fittings.
Children are much more comfortable when they can personalize a space. They are also much more likely to enjoy their studies and will have fewer arguments over toys and games.
Decorate for the Room Size
Like any other room in your home, your children's bedroom must be decorated appropriately. You can apply standard decor techniques and methods to a kid's room just as you would any other.
For example, if the room is small, paint it with bright neutrals and use natural light to make it feel larger and airy. You can also install longer curtains and use smaller furniture to make the room look taller. And then there's always the matter of using space well.
Use Space Well for Two-Child Room Decorating
Space is one of those things that always seems to be running out. And you will notice this with a growing family then, even more when your kids begin to accumulate toys, games, and clothes. A good tip is to install child-safe shelving wherever possible.
And it helps to fit wardrobes and dressers into alcoves. You can also shelve in recessed areas to make the available space go further. And, of course, what child doesn't want their parents to install bunk beds?
Make a Comfy Hiding Space
You can really open up the space in a room with recessed beds that act like a comfy little hiding space. Bunk beds, in particular, work well for this as you can lay them inside the space. This leaves the rest of the room open as a common area for both children.
They can use this space for playing video games, exercising, and general monkeying around. Of course, you can also use a space for a reading nook for the kids if they already have separate beds in the room.
Two-child decorating can be a bit of a challenge. Of course, it always helps to measure out the space you have first. And kids love it when you personalize their space. And you can use any available space for a comfy reading nook, storage, or a hidey-hole with bunk beds inside.