Food Ideas for a Baby Shark Party
Your kiddo is another year older and you want to throw a cute and fun party to celebrate, right? What better way than to celebrate with a baby shark theme? This post will give you loads of baby shark party food ideas to throw the tastiest, best shark-themed celebration your friends have ever seen.
From jawesome shark cupcakes and desserts to refreshing drinks and salty snacks, you'll find everything you need to make your party a success. Some of the drinks and popsicles have both mocktail and cocktail versions, so take your pick or make both.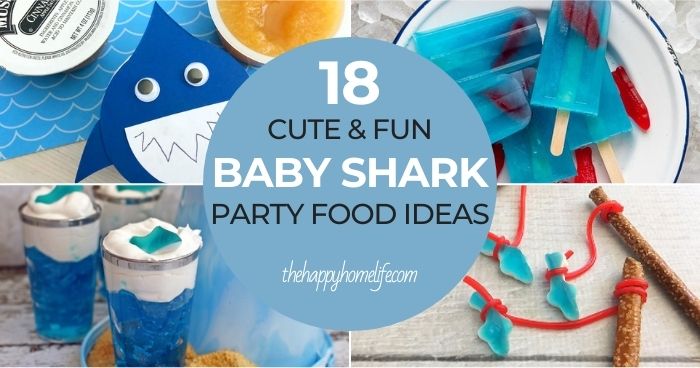 Easy Shark Party Food Ideas
It's a party! Celebrate your little one in style with these awesome baby shark party food ideas. From cupcakes and popsicles to fishing pole treats, here are 18 perfect ways you can make the most of your child's birthday bash. Now go get those teeth ready for some serious chomping on all that yummy goodness!
And if you're looking for some fun crafts for the kids to make at the baby shark birthday party, try these shark fin hats or these toilet paper roll sharks. Both are easy, cute, and fun!
Baby Shark Party Food Ideas
Are you planning a jawsome shark party for your little one? What a fun theme! We've rounded up 18+ of the BEST baby shark party food ideas with lots of snacks, sweet treats, and fun drinks to make your party the hit of the summer.
Congratulations on your little one's birthday! Hopefully these shark-themed party ideas have given you some inspiration for throwing the cutest, most jawesome celebration. Whether it's an informal gathering with friends and family or a larger event, we hope this list has shown you that there are plenty of ways to make your baby shark themed party feel fresh and new without breaking the bank.
Baby Party Food Ideas