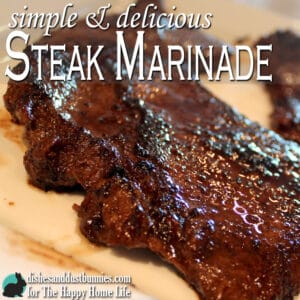 Simple and Delicious Steak Marinade
Yield 4 servings
Ingredients
2 garlic cloves, minced
1/4 tsp black pepper
1 tsp onion powder
1/4 tsp ground sage
Pinch of ground chipotle pepper
1/2 tsp Worcestershire sauce
2 tbsps reduced sodium soy sauce
Instructions
Combine all the ingredients in a zip top bag large enough to hold the steaks.
Put the steaks in the zip tog bag and push the steaks around so that the seasonings touch each steak. It's best to push most of the air out of the bag and seal it. Then you can rub the steaks from the outside of the bag to coat everything.
Put the steaks in the fridge overnight to soak in the flavors.
Cook the steaks the next day as you typically would.
Recipe by The Happy Home Life at https://www.thehappyhomelife.com/simple-delicious-steak-marinade/