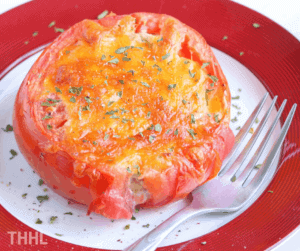 Keto Tuna Melt Stuffed Tomatoes
Yield 4 Stuffed Tomatoes
Ingredients
3-4 large Tomatoes
2 cans Tuna, drained
½ cup diced cucumbers or pickles*
6 ounces cream cheese
½ cup cheddar cheese, shredded
Optional- dried parsley
Salt and pepper to taste*
*omit salt if using pickles
Instructions
Preheat oven to 375 degrees.
Wash and dry the tomatoes. Cut tops off of tomatoes and scoops out insides.
In a bowl, add the cream cheese and beat until fluffy.
Add the tuna and cucumbers/pickles and fold in gently.
Sprinkle with salt and pepper and taste. Adjust to preference.
Place tomatoes in a shallow baking dish.
Gently fill tomatoes with tuna mixture.
Top each tomato with equal amount of cheese.
Bake for 18 minutes. Or until tomatoes appear soft.
Recipe by The Happy Home Life at https://www.thehappyhomelife.com/keto-tuna-melt-stuffed-tomatoes/