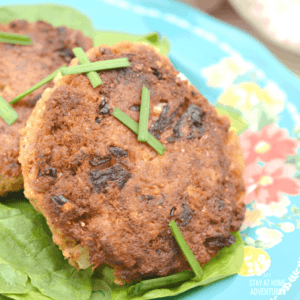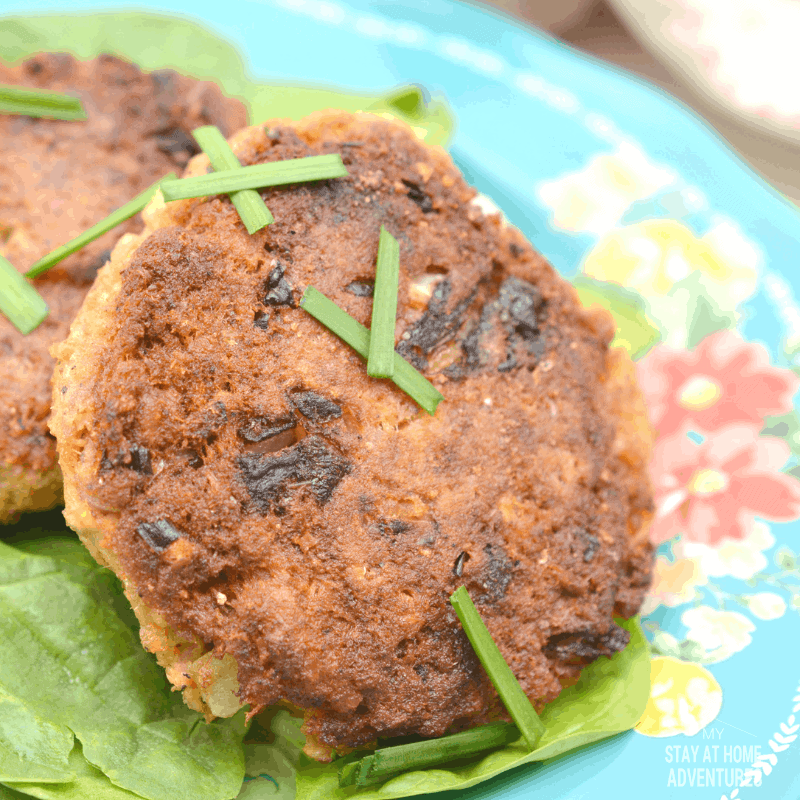 Keto Salmon Patties
Ingredients
2 (14.75 oz.) Cans Pink Salmon
1 Egg beaten
1 Small onion finely chopped
2 tbsp. Fresh chopped chives
½ c. Pork rind finely crushed
2 Worcestershire sauce
1 Garlic powder
Salt and pepper to taste
1 tbsp. Olive oil
2 tbsp. Unsalted butter
Instructions
Drain two cans of pink salmon completely, and place them into a large mixing bowl.
To the mixing bowl, add in 1 small chopped onion and 1 beaten egg.
Mix in ½ cup of finely crushed pork rinds and 2 tablespoons of fresh chopped chives.
Add in 2 teaspoons of Worcestershire sauce and 1 teaspoon of garlic powder, plus salt and pepper to taste.
Use your hands to mix together all of the ingredients well.
Form the mixture into 8 even patties.
Heat 1 tablespoon of olive oil and 2 tablespoons of unsalted butter in a skillet over medium heat.
Once the skillet is hot, add in the salmon patties in a single layer, careful not to crowd the skillet. You make have to use two skillets or cook the patties in two separate batches.
Cook the patties for 5-7 minutes on each side, making sure to brown and sear each side well.
Let the patties drain on a paper towel for a minute once removed from the skillet and serve with fresh sour cream or your choice of chopped herbs.
Recipe by The Happy Home Life at https://www.thehappyhomelife.com/keto-salmon-patties/