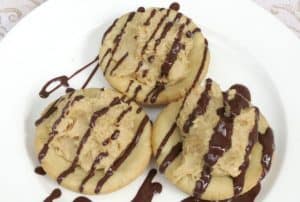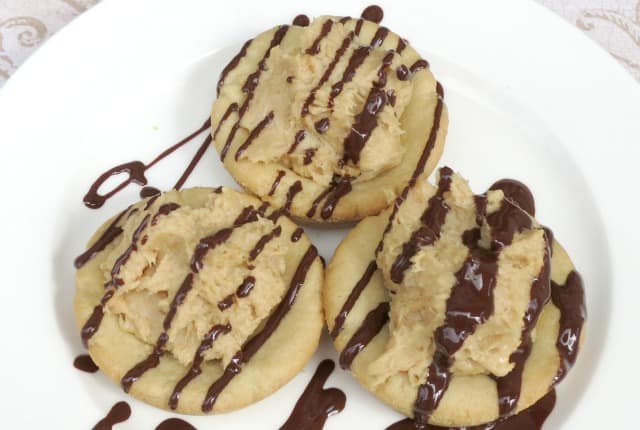 Cookie Cups With Peanut Butter Cream Cheese Filling
Ingredients
Cookie Ingredients:
1/2 cup (1 stick) butter at room temperature
1/2 cup granulated sugar
1/2 cup firmly packed light brown sugar
1 large egg
1 tsp. Vanilla extract
1 1/3 cup all purpose flour
1/2 tsp. baking powder
1/2 tsp. baking soda
1/2 tsp. salt
Peanut Butter Cream Cheese Filling Ingredients:
1 package cream cheese (room temperature)
3 T granulated sugar
1 tsp vanilla
4 T peanut butter
Topping Ingredients:
Dark chocolate
Instructions
Step 1 – Preheat the oven to 350 degrees and spray  muffin pan with non-stick cooking spray.
Step 2 – Make the cookie dough by adding the ingredients in the order above into your stand mixer or mixing bowl.
Step 3 – Roll the cookie dough into 1 Tablespoon balls. Place the dough into the muffin tins, making sure to press the dough into the sides and bottom of the muffin cups so that you have a cup.
Step 4 – Bake for about 10 minutes. Remove from the oven and let cool. Remove the cookie cups and set aside.
Step 5 – Mix the ingredients for the peanut butter cream cheese filling.
Step 6 – Place a heaping tablespoon of peanut butter cream cheese into each cookie cup.
Step 7 – When you are ready to serve, melt the dark chocolate in the microwave for about 30 seconds. Use a spoon to drizzle chocolate over each cookie cup.
Recipe by The Happy Home Life at https://www.thehappyhomelife.com/cookie-cups-with-peanut-butter-cream-cheese-filling/