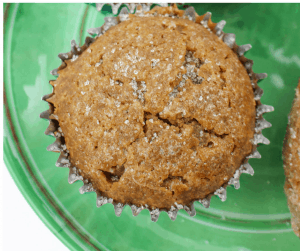 Christmas Morning Muffins
Ingredients
3 cups all purpose flour

2 teaspoons ground cinnamon

1 teaspoon ground ginger

1 teaspoon baking powder

1/2 teaspoon salt

1/2 cup (1 stick) butter- softened at room temperature

1/4 cup honey
1/3 cup brown sugar
1/4 cup applesauce
1/3 cup molasses
1 large egg
2/3 cup milk
1/3 cup coarse bakery sugar
Instructions
Preheat oven to 350°. Line a 12 count muffin pan with paper muffin cups and set aside.
In a medium mixing bowl, add the flour, cinnamon, ginger, baking powder and salt. Whisk to combine and set aside.
In a large mixing bowl on low speed, mix together the softened butter, honey, brown sugar, applesauce and molasses. Add the egg and mix well to incorporate.
Add half of the dry ingredient mixture and half of the milk and stir well to combine. Add the remaining flour mixture and milk and stir until the muffin batter is completely wet.
Fill the lined cups ¾ of the way with the muffin batter and generously sprinkle the coarse sugar on top of each one.
Bake for 25-30 minutes or until an inserted toothpick in the middle of a muffin comes out clean.
Allow to cool in the muffin pan for 5 minutes before transferring to a wire rack.
Recipe by The Happy Home Life at https://www.thehappyhomelife.com/christmas-morning-muffins-your-family-will-love/