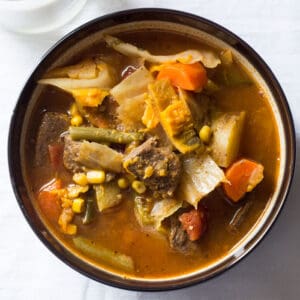 Beef Vegetable Soup
Yield 8 servings
This hearty beef vegetable soup is sure to satisfy on a chilly fall or winter day!
Ingredients
1.5 - 2 lbs. beef, cubed
3 medium golden potatoes, cubed
1 large sweet potato, cubed
3 carrots, peeled and cut into 1 inch pieces
1 stalk celery, diced
6 green onions, diced
1 (16 oz) can whole kernel corn, drained
1/3 head of cabbage, sliced
1 (16 oz) can diced tomatoes with juice
1 (16 oz) can tomato sauce
2 cloves garlic, diced
3 T. fresh parsley, chopped
1 T. olive oil
1 (16 oz) can green beans, drained
Instructions
Brown meat in oil in a large soup pot.
Add garlic, onions and celery and cook until tender. Add salt and pepper to season.
Add enough water to cover the meat. Simmer for 1 hour on med-low.
Add all remaining ingredients and enough water to cover the vegetables. Simmer on low until vegetables are tender, about 30-40 minutes.
Season to taste.
Recipe by The Happy Home Life at https://www.thehappyhomelife.com/beef-vegetable-soup/